It's such a lovely sunny day today. Driving some back country roads this morning, I marveled at how pretty all of the blossoming trees are. Magnolia trees are in full bloom right now and they're oh-so-pretty! Magnolia trees are my favorite springtime blooming trees. I love to see the blossoms on the ground after they've fallen off the tree too.
The colors and the blossoms and the cool air with the warm sun make today just the perfect spring day for me.
Lilac Bush!
My Lilac bushes are no where close to blooming but I'm really getting anxious to see how well they blossom this year after their trimming back last fall. I'm hoping for more blossoms than ever.
I'm especially anxious to cut a huge bouquet of them for inside the house. I have a crystal Waterford vase I always use for them.
Lilac Beauty Candle mat in Black
My "Lilac Beauty" candle mat is needing a pretty vase of Lilacs right in the center of it!
Lilac Beauty Candle Mat in Natural White






If you'd like to have a pretty wool Lilac Beauty candle mat under your bouquet of flowers, just visit my website by
CLICKING HERE
for the pattern.. I have the wool kits available for both the black background and the natural white background.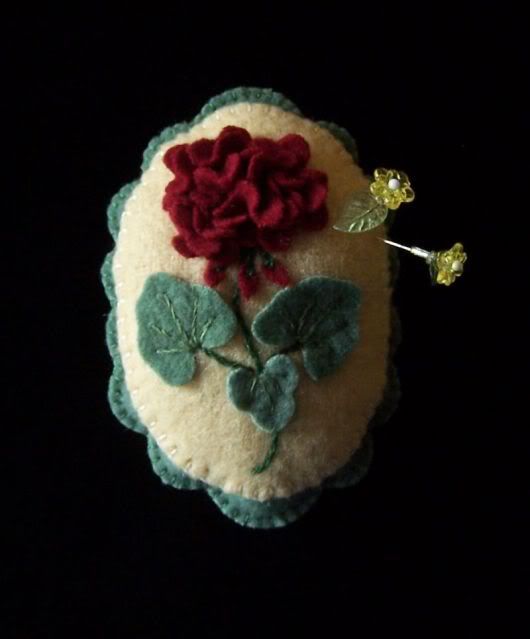 Geranium Pin Cushion



If you don't want to tackle making a candle mat, consider stitching just a single flower from the pattern for a pin cushion or shelf pillow.
Some designers don't want the customer to alter their patterns in any way, but I don't mind at all. I love seeing how my customers use something of mine to create something different. As long as the pattern is purchased from me and credit is given to me as the original designer, my customers are welcome to do just about anything they wish with the pattern design.
I used to make pin cushions to sell as finished items. You can tell from all of my patterns that flowers are my favorite designs to create. I've done dozens of flowers over the years.... geraniums, pansies, lilacs, violets, dogwood, daisies, sunflowers, coneflowers, lily-of-the-valley, pussywillows, queen anne lace, thistle, and even dandelions.
Pin Cushions!
The picture above is a 2006 scrapbook picture of just some of the pincushions that I made that year and sold.
Pansies were my favorite to stitch.
So consider pin cushions or shelf pillows for some quick and easy stitching projects. They make great gifts too.
Thank you for reading! Be happy, be kind!
Happy Day!