"It was one of those March days when the sun shines hot and the wind blows cold: when it is summer in the light, and winter in the shade."
~Charles Dickens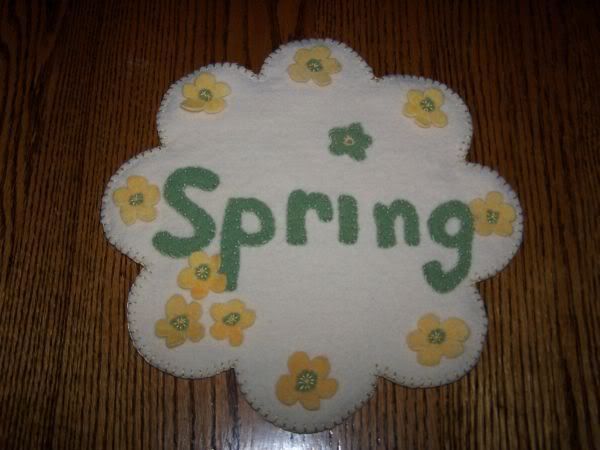 No, this isn't a new pattern design. It's something I made years and years ago.
I've been so productive these past few days and simply because the weather has been so nice.
Spring cleaning is what it's called. Redding up (that's a Pittsburgh term for cleaning) my office space, vacuuming behind the furniture and generally getting rid of the clutter, are just some of my accomplishments. It's a really good feeling and it makes me happy when I see the clean results. I'm hoping to finish by the end of this week so that I can plan for our Easter family time.
I do have some new designs all stitched up and ready for pattern printing. I'm so very very pleased with their results. I'm going to wait a bit for their release until after Easter so that I can enjoy my Spring cleaning efforts.
March and April have always been a slower time for my business ...I'm pretty sure it's because everyone, just like me, is outside enjoying the beauty of Spring. I take advantage of this slower time to "catch up"with everything that I've put aside because the business was just too busy.
In the meantime, I'd love to show off some of my treasured things that I've given as gifts to very special people in my life.
This is the wall hanging that I made for my grandson.
Fang is a beagle and my grandson named him after one of the character's dog in the Harry Potter books.
Fang certainly doesn't live up to his ferocious name. He's a gentle, loving soul. Although, I have to say, if you aren't guarding the hamburger in your hand very closely, he will make it disappear so fast that you'll wonder if it was ever in your hand! :) I still laugh when I think of the look on my grandson's face after his hamburger disappeared from his hand.
To make this, I took a picture of Fang .....
Then I drew/sketched him to the size I wanted to make for the wall-hanging and drafted the pattern for it. I hand-dyed the wool to get that mottled brown color to match his fur. I even held the dyed wool up to Fang just to make sure the color was perfect.
I found a special "Harry Potter" font and cut the letters to resemble that. My grandson has always loved Harry Potter. He's 9 now but even back when he was 3, his mom was reading the books with/to him so I knew he would recognize that special letter font.
For the circle dog tag, On one side I stitched, "I love Kaiden" and on the reverse side, I stitched "Kaiden loves me".
I attached a dowel rod to the top and have a dog collar chain attached to that for hanging.
I made this for him 3 years ago and it's hanging in his bedroom.
If think if I were to make it again, I'd make his snout just a little longer. I made him look more like he did as a puppy rather than a full-grown 8 year old dog. Even so, my grandson loves it and that's all that matters. :)
I'll have more treasured gift pictures to share in a few days.....cars. I do old cars.
"Do it for joy and you can do it forever" ~ Stephen King
Thank you for reading and have a wonderfully Happy Day!