As much as I'd love to stick with Fall and Halloween and all the decorations/designs that go along with it, I know that I have to keep just a bit ahead of the seasons when it comes to selling my penny rugs.
I have sooooo many good ideas for designs for this fall and Thanksgiving, but not enough time to make them. Since I HAVE to get going with the busy Christmas holiday season, I'm going to pack away my fall idea designs. I'll get them out again next August ...they will become next year's patterns.
But darn, I had a cute turkey one in my head that I'd love to do this year .... so maybe, just maybe, I won't pack all the ideas away.
Anyway, for this Christmas season, I'm going to branch out in another direction and try offering a few of my designs as PATTERNS!
I've come to realize that there are a lot more sewers/stitchers out there in blogland and Ebay than there are buyers of finished items. That realization, along with a lot of queries as to when I will offer my designs as sellable patterns, has pushed me into the decision to focus SOME of my time on making patterns to sell.
Two of my favorite hoilday designs from last year will become patterns.
This one was really popular last year. "Let It Snow" will be the first pattern that I'll offer. I'm working on this one right now. It will have some minor adjustments in the design so I will actually make one before actually printing the pattern for it. I think I'll blog the steps to making this along the way.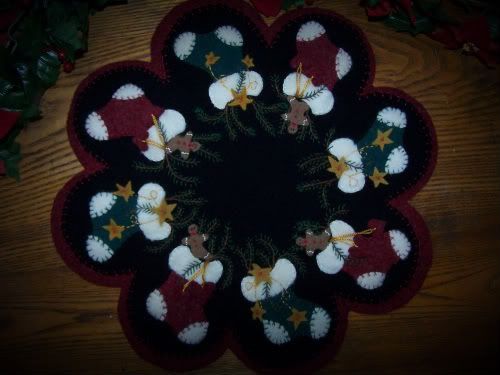 After the "Let It Snow" is printed, I'll focus on this one next. Oh, how I love this one and it's going to be difficult to share this one with everyone. This design is up there with some of the most favorites of all the designs that I've ever made ... and I've made a lot.
There are lots of ridiculous details with this design but it's worth the time and effort just because it's just so darn nice when it's finished.
So there ya go ... a preview of what is to come. I have a lot of work that will be involved with doing this so my time spent actually sewing will be shortened ... which is why I've put off offering patterns to begin with. I love to sew so anytime that is spent doing something else takes me away from what I love.
But it will be done, and I will blog about it the entire time. Branching out can be a good thing, hopefully.
Tomorrow will start the beginning of the "Let It Snow" tutorial.

Happy Day Everyone!